Search By Year of Publication of Review
2020丨2019
---
Volume 7  •  Issue 2 •  November 2020
Shen Zongqian. Esquif sur l´océan de la peinture 芥舟學畫編. Translated and annotated by Yolaine Escande. Paris: Les Belles Lettres, 2019. Reviewed by Antonio Mezcua López
Shen Zongqian's Skiff on the Ocean's Pictorial Apprenticeship (1781) is meant to be a pictorial treatise intended for practitioners and connoisseurs. Nonetheless, the book makes Chinese painting accessible to everyone. This is probably the main reason of its success with 20th-century and contemporary Chinese artists and theoreticians.
Halfway between the Manual of the Mustard Seed Garden and Shitao's Monk Bitter-Pumpkin's Reflections on Painting, Shen Zongqian's text is strikingly both practical and concrete, articulated with an extensive theoretical reasoning. The first two chapters concern mountains and waters painting (shanshui), i.e. the pictorial and literary landscape. The third chapter is dedicated to the "spirit transmission", in other words the portrait, whilst chapter four conceives figure painting as the union of shanshui and portrait.
The volume, referring to its famous predecessors, develops and clearly and concretely casts light on a great number of technical, philosophical and aesthetic notions used in calligraphy and painting. Being an offshoot of "orthodoxy", the book anyhow challenges it by pointing out its contradictions and proposing solutions.
Until now unpublished in Western languages, this treatise is a valuable testimony of the social, historical, aesthetic, and ideological status and role of literati painting during the 18th century. It helps comprehend the reasons of the exploitation of literati painting by the imperial system by means of orthodoxy, and its function of legitimisation.
Zong-Qi Cai, ed. How to Read Chinese Poetry in Context: Poetic Culture from Antiquity Through the Tang. New York: Columbia University Press, 2018. Reviewed by Christopher M. B. Nugent
How to Read Chinese Poetry in Context is an introduction to the golden age of Chinese poetry, spanning the earliest times through the Tang dynasty (618–907). It aims to break down barriers—between language and culture, poetry and history—that have stood in the way of teaching and learning Chinese poetry. Not only a primer in early Chinese poetry, the volume demonstrates the unique and central role of poetry in the making of Chinese culture.
Each chapter focuses on a specific theme to show the interplay between poetry and the world. Readers discover the key role that poetry played in Chinese diplomacy, court politics, empire building, and institutionalized learning; as well as how poems shed light on gender and women's status, war and knight-errantry, Daoist and Buddhist traditions, and more. The chapters also show how people of different social classes used poetry as a means of gaining entry into officialdom, creating self-identity, fostering friendship, and airing grievances. The volume includes historical vignettes and anecdotes that contextualize individual poems, investigating how some featured texts subvert and challenge the grand narratives of Chinese history. Presenting poems in Chinese along with English translations and commentary, How to Read Chinese Poetry in Context unites teaching poetry with the social circumstances surrounding its creation, making it a pioneering and versatile text for the study of Chinese language, literature, history, and culture.
I-Hsien Wu. Eroticism and Other Literary Conventions in Chinese Literature: Intertextuality in The Story of the Stone. Amherst, NY: Cambria Press, 2017. Reviewed by Mary Scott
Using Julia Kristeva's terms on intertextuality, especially her notions that every human being is nothing more than an intersection of preexistent discourses created by human language and text, and that reality can only be seized as a reconstructed fiction that exists through its relation to previous fiction, Eroticism and Other Literary Conventions in Chinese Literature examines how The Story of the Stone dramatizes human experiences by responding to previous literature.
In this light, the mythic stone's harsh critiques of historical romance (yeshi), erotic fiction (fengyue bimo), and scholar-and-beauty fiction (caizi jiaren) all allude to the nature of intertextuality and signify The Stone's anxiety of influence: the novel's construction of lust shows its indebtedness to erotic literature; its making of romance is created through the use of drama as reading and as performance; in the protagonist's confrontation with and final submission to social expectations, the novel wrestles with the portrayal of young literati in the scholar-and-beauty convention; and finally, following a genealogy of objects featured in literature to animate human lives, the mythic stone is created to question the convention of storytelling, not only in pre-existing fiction but also in the novel's many previous lives in manuscript versions and printed editions.
Zuo Tradition. Zuozhuan 左傳: Commentary on the "Spring and Autumn Annals."  Translated and introduced by Stephen Durrant, Wai-yee Li, and David Schaberg. 3 vols. Seattle: University of Washington Press, 2016. Reviewed by Kai Vogelsang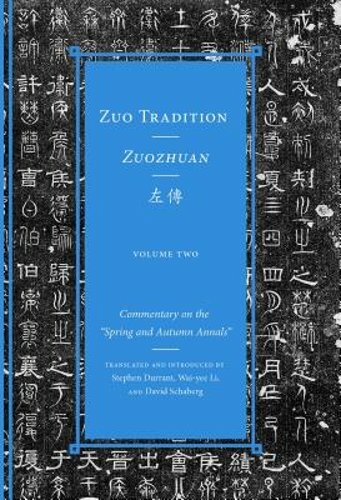 Whether considered as a work of history or literature, Zuo Tradition is surely one of the masterpieces of world literature, and the translators and publisher are to be applauded for making it more accessible to readers everywhere in this handsome and readable new complete translation. The translation is crisp and lively, the introduction straightforward and informative, and the notes and indexes invariably helpful. In every respect, Zuo Tradition is a realization of Confucius's maxim 'Use words that are adequate to the intent; use ornamentation that is adequate to the words.'
– Edward Louis Shaughnessy, University of Chicago
Zuozhuan has anchored the entire corpus of Chinese historical writing for the last two millennia. Its canonical status as the work of Confucius has given it enormous authority not just in determining how Chinese historians should record past events, but in shaping how the Chinese imagine that history itself unfolds. Now that we have this meticulously researched and carefully considered translation, this foundational text can finally take its place among the core classics of early historical writing worldwide.
– Timothy Brook, University of British Columbia
It would not be an exaggeration to say that with the publication of this new translation, Zuozhuan will become accessible to an incomparably larger audience, benefiting Western studies of ancient Chinese history, thought, and culture. . . . This translation will establish new professional standards for future translations in the field.
– Yuri Pines, author of Foundations of Confucian Thought: Intellectual Life in the Chunqiu Period
Volume 6  •  Issue 2 •  November 2019
Zhang Yingyu. The Book of Swindles: Selections from a Late Ming Collection. Translated by Christopher Rea and Bruce Rusk. New York: Columbia University Press, 2017. Reviewed by Katherine Carlitz
This is an age of deception. Con men ply the roadways. Bogus alchemists pretend to turn one piece of silver into three. Devious nuns entice young women into adultery. Sorcerers use charmed talismans for mind control and murder. A pair of dubious monks extorts money from a powerful official and then spends it on whoring. A rich student tries to bribe the chief examiner, only to hand his money to an imposter. A eunuch kidnaps boys and consumes their "essence" in an attempt to regrow his penis. These are just a few of the entertaining and surprising tales to be found in this seventeenth-century work, said to be the earliest Chinese collection of swindle stories.
The Book of Swindles, compiled by an obscure writer from southern China, presents a fascinating tableau of criminal ingenuity. The flourishing economy of the late Ming period created overnight fortunes for merchants—and gave rise to a host of smooth operators, charlatans, forgers, and imposters seeking to siphon off some of the new wealth. The Book of Swindles, which was ostensibly written as a manual for self-protection in this shifting and unstable world, also offers an expert guide to the art of deception. Each story comes with commentary by the author, Zhang Yingyu, who expounds a moral lesson while also speaking as a connoisseur of the swindle. This volume, which contains annotated translations of just over half of the eighty-odd stories in Zhang's original collection, provides a wealth of detail on social life during the late Ming and offers words of warning for a world in peril.
Rebecca Doran.Transgressive Typologies: Construction of Gender and Power in Early Tang China. Cambridge,MA: Harvard University Asia Center, 2016. Reviewed by Maram Epstein
The exceptionally powerful Chinese women leaders of the late seventh and early eighth centuries – including Wu Zhao, the Taiping and Anle Princesses, Empress Wei, and Shangguan Wan'er – though quite famous in the Chinese tradition, remain elusive and often misunderstood or essentialized throughout history. Transgressive Typologies utilizes a new, multidisciplinary approach to understand how these figures' historical identities are constructed in the mainstream secular literary-historical tradition and to analyze the points of view that inform these constructions. 
Utilizing close readings and rereadings of primary texts written in medieval China through later imperial times, the study elucidates narrative typologies and motifs associated with these women to explore how their power is rhetorically framed, gendered, and ultimately deemed transgressive. Rebecca Doran offers a new understanding of major female figures of the Tang era within their literary-historical contexts, and delves into critical questions about the relationship between Chinese historiography, reception-history, and the process of image-making and cultural construction.
Joseph S. C. Lam, Shuen-fu Lin, Christian de Pee, and Martin Powers, eds. Senses of the City: Perceptions of Hangzhou and Southern Song China 1127-1279. Hong Kong: CUHK Press, 2017. Reviewed by Michael Fuller
While previous scholars have focused on the structural properties of Song dynasty (960–1279) cities, contributors in this volume unite in an effort to restore the connection between the historical texts concerning Southern Song cities, mainly Lin'an, or Hangzhou, and the actual physical urban space described in those works. Their richly detailed essays reveal a world distinct from, yet at the same time related to, the rich urban and material cultures of Hangzhou. The sights, sounds, and even smells of the greatest city on earth in the twelfth and thirteenth centuries are at once palpable in the nine essays assembled here, all of which are penned by prominent scholars in the field. This book is highly recommended for all readers interested in the cities of ancient China. (James Hargett)
Never meant to be an imperial capital, Hangzhou always exceeded the category of a court city. Its chaotic energy seduced literati and painters who might have wanted to tame its excesses to turn away from the old models of imperial stasis and enter into the flux of change. The authors of this volume revisit important literary, artistic, and historical sources of the Song dynasty to capture this extraordinary transformation and offer new ways to appreciate the excitement and anxiety of living in this urban world. (Timothy Brook)
Xiaorong Li.The Poetics and Politics of Sensuality in China: The "Fragrant and Bedazzling" Movement (1600-1930). New York: Cambria University Press, 2019. Reviewed by Paola Zamperini
"Fragrant and bedazzling" (xiangyan) is a Chinese phrase synonymous with sensual and bewitching feminine beauty and, in literature, eroticism. Drawing on extensive archival research, this book argues that sensual lyricism is more political than its sensuous surfaces—and China's lyrical tradition is sexier and more "modern"—than existing histories have led us to believe.